Where's The Excitement?
November 6th, 2014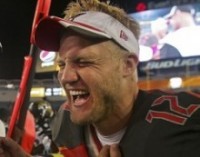 Put aside Lovie Smith's somewhat bizarre chatter about the quarterback situation for a moment.
The reality is the Bucs re-installed Josh McCown, who led the team all offseason — even in voluntary practices on public fields with 100 percent attendance — the man players voted captain, their freaking starting quarterback, and there's very little excitement to be detected.
Consider Gerald McCoy's take last night on the quarterback change, via the Buccaneers Radio Network last night.
"Nobody's really had anything to say about it. It's just kind of, Coach made a decision and we going with it. And if Coach believes that's who gives us the best shot to win, that's what we believe. So we're just going with it," McCoy said. "Nobody's really combating it or anything else. It's just, 'Alright, Josh is starting this week, let's go to practice. That's how it works.'"
Joe really perked up when McCoy said, "Nobody's really combating it." Um, Gerald, to heck with the combat; what about the energy and enthusiasm and spark that's arrived?
Joe found that to be a telling take from McCoy. Again, McCown is supposed to be a team leader, likely No. 1b to McCoy in leadership. In a healthy and happy Bucs world, McCoy should have been sharing what a positive McCown returns represents.