Who's The Next Punt/Kick Returner?
November 23rd, 2014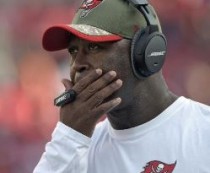 Joe referenced in his "GameDay" preview that Lovie Smith's hand-picked returner, Marcus Thigpen, fumbled last Sunday and likely would be a key to today's game.
Thigpen sure was — and Joe suspects Thigpen's Buccaneers career is over. Solomon Patton was fired in September for lesser crimes.
(Patton could be had now. He's on the Arizona Cardinals' practice squad.)
Thigpen had nothing to offer today, other than a fumble. He doesn't seem to catch many balls cleanly, and his returns were poor. His stats were ugly, and he fumbled.
The Bucs can do better, should do better, and they surely should explore another options.
Months ago, Lovie talked about how Bobby Rainey was hounding him with reminders that he can be a good returner. Rainey looked solid in preseason. Perhaps Lovie should give him a shot. It can't get much worse.