Jameis Watch: Mettenberger Helps The Cause
November 23rd, 2014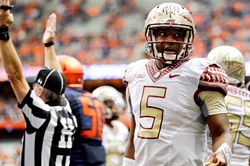 Crab-legs-stealing, BB-gun-shooting, obscenity-hollering, Heisman-Trophy-winning, national champion James Winston, the pride of Florida State University, continues to look like a much better quarterback prospect than Mike Glennon and Josh McCown.
It's Joe's daily nugget on the Jameis Watch, celebrating the best quarterback to wear No. 5 ever in the state of Florida.
Who needs alcohol to calm your 2-9 nerves? Joe's got real hope to share.
If it's not clear to you now that the Bucs should draft a quarterback last offseason in April, then Joe's not sure what you're watching.
Josh McCown, to be polite, is not the answer to what ails the Tampa Bay offense.
Jameis Winston may not be, either, but good things are happening in the NFL that could/should help Tampa Bay get a shot at a quarterback like Winston, who has franchise-QB talent.
Today, Joe was giddy that rookie QB Zach Mettenberger had another strong game for the Titans, who also are 2-9. Mettenberger rallied the Titans back from an early 17-point deficit in Philadelphia, only to lose 43-24. Mettenberger finished 20-for-39 for 345 yards, two touchdowns and one interception.
The better he plays, the more likely the Titans are to pass on a QB in the draft.
Raiders (1-9) rookie QB Derek Carr also is surging and performing like the top rookie QB of this season. The one-win Jags with Blake Bortles won't draft a quarterback, either.
With all the inevitable quarterback uncertainty in the draft, and potential trade scenarios, Winston will be scrutinized deeper — and by more teams — than any college QB in history.