THE OPTIMIST: McCown II Will Improve
November 6th, 2014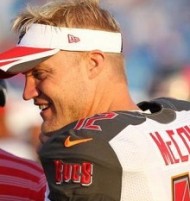 In these unsettled times of devastating Bucs losses, constant change and growing pains, Joe thought it would be wise to bring back THE OPTIMIST.
THE OPTIMIST is Nick Houllis, a Bucs fan and an accomplished writer whose steadfast allegiance to the Buccaneers goes back to the 1970s. Houllis is the founder, creator and guru of BucStop.com, a place Joe goes to get lost in time via Houllis' stunning video collection.
THE OPTIMIST will shine that positive light in your eyes. Some will love it. Some won't. … Of course, THE OPTIMIST's opinions are his alone and are not influenced by Joe.
The Mike Glennon experiment is over; He is obviously NOT the future of the Bucs, other than holding a clipboard and being an excellent backup option.
So what does that mean?
Are the Bucs going to start winning and ruin their chance to draft high next year? That may happen, but remember Josh McCown is under contract for next year. If the Bucs draft a QB for the future, then he will need to be mentored. Which current QB do you want mentoring the future star?
This team needs to win now, and at the risk of losing out on a high draft pick, winning six of the last eight games would have Tampa Bay in a frenzy with fans unwilling to wait for the start of next season, much less the draft.
But have we seen signs that McCown will perform as a winner, versus what he did in September?
Consider the following:
1) Mike Evans has developed into a real threat: Vincent Jackson is hardly the Bucs' No.1 any more. If he is, then he needs to start playing like it. Evans is catching everything thrown to him, and McCown is far more accurate than Glennon. Plus, having Evans and Jackson playing NFL caliber ball is more like what McCown had last year in Chicago.
2) Marcus Arroyo has a better grasp on the offensive play calling: We have no idea where the Bucs thinking was back in Weeks 1 through 3. They probably felt Jeff Tedford was right around the corner from coming back. Now Tedford is gone and Arroyo is more comfortable calling plays, and that will show through McCown's veteran experience.
3) O-Line is somewhat jelled: Not sure how much of an impact this will have, but the line play Sunday was improved from past weeks. McCown is more able to scramble around, extend plays, and pick up first downs rather than run out of bounds one yard shy of them.
We should see a better version of McCown on Sunday — and that should mean victory.