Verner Remains Sidelined With Hammy
November 6th, 2014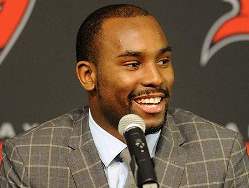 Joe's downright scared of the Falcons' passing game right now.
Alterraun Verner missed his second consecutive practice with a bad hamstring. You can just about write him off for Sunday.
That leaves the Bucs with Johnthan Banks and a bunch of names Joe is afraid to type. This is not the way to enter a game with Matt Ryan, Julio Jones, Roddy White, Harry Douglas and Devin Hester. Oh, and the Bucs already struggle to stop tight ends.
The Bucs better get that pass rush going or decide to blitz more often. They just can't let Ryan spray the ball around.
Also out today were Doug Martin, Anthony Collins and Akeem Spence, who pulled a hammy yesterday.