Growing And Peaking At The Right Pace
November 6th, 2014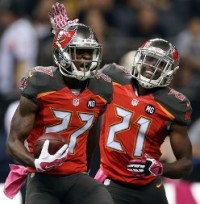 Cornerback Johnthan Banks seems to embody what the Bucs defense is supposed to be all about on November 6, 2014.
Banks started slowly in a new defense but has progressed to where he's regularly in position to make plays.
Two Sundays ago, Banks failed to make a play, a fourth-quarter ball in his hands against Minnesota. It cost the Bucs a win.
Four days ago, Banks redeemed himself with a great interception and a hell of a game versus the Browns.
At midseason, Banks is peaking. That's supposed to be what all his defensive teammates are doing, but that's not the case yet. Just ask Ronde Barber.
Today, defensive coordinator Leslie Frazier raved about how Banks has evolved into a gamer.
"It seems like his confidence has really grown. You watch him in practice; he's practicing with a little bit more of a swagger now. Part of that is just understanding what his role is in the defense and what we expect from him. And we're seeing it on the field in games. He had a real good game on Sunday, an outstanding game, made every play that was just about, you know, that came his way.

"His work ethic has always been there. I think it's just a matter now of the fact he has a greater understanding of his role in this scheme."
This is great to hear about Banks. He sure seems to be learning faster than Alterraun Verner.
It's not a huge surprise, Banks was successful and consistent in the SEC, and he's one of the oldest and most mature second-year players in the NFL at 25 years old.
Former Bucs rockstar general manager Mark Dominik deserves a tip of the cap this afternoon for his 2013 second-round pick.