Thumbs Down From Herm Edwards
November 27th, 2014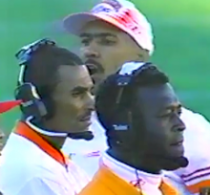 Wait a minute.
Former Jets head coach and Bucs assistant head coach Herm Edwards was the guy who predicted Tampa Bay was headed to the Super Bowl this season.
But now he seems to be singing a different tune in front of the BSPN cameras. C'mon, Herm. The Bucs are improving. They've won one out of their last two and the defense looks decent.
Catch Herm and Teddy Bruschi on the NFL Live Bengals-Bucs preview below.