Jameis Watch: Unpredictable Future
November 27th, 2014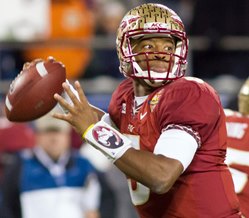 Crab-legs-stealing, BB-gun-shooting, obscenity-hollering, Heisman-Trophy-winning, national champion James Winston, the pride of Florida State University, continues to look like a much better quarterback prospect than Mike Glennon and Josh McCown.
It's Joe's daily nugget on the Jameis Watch, celebrating the best quarterback to wear No. 5 ever in the state of Florida.
As one can imagine, Joe gets a lot of quarterback questions. With the Bucs staring down the barrel at a 2-14 season, and the quarterback of the future has been benched and the journeyman starter demonstrates weekly why he is a journeyman, it is easy to understand why Bucs fans are clamoring for a QB.
Look, even today on Twitter, Joe was asked about Robert Griffin III. That's how bad things are for Bucs fans, they are clamoring for someone else's broken down bust.
Andy Benoit is on the same page as Joe. Really. Benoit, who types for theMMQB.com, believes the true Bucs quarterback of the future, or at least 2015, is out there.
No idea. He's not on the roster now…..RT @RiseUp93: @Andy_Benoit What do you think the Bucs will do at QB next year?

— Andy Benoit (@Andy_Benoit) November 26, 2014
It is highly unlikely Lovie will find a competent offensive coordinator willing to hitch his NFL future to Josh McCown or Mike Glennon. Instead, said offensive coordinator will want to either develop his own man, or work with a proven quarterback that has played meaningful January football..
Whether that is Jameis Winston or an NFL veteran, we will find out in the coming months. The calendar year 2015 isn't far away.