"They're Not Playing A Lot Of Tampa-2"
November 7th, 2014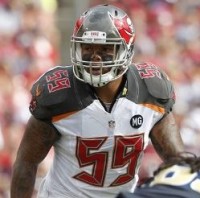 Stop blubbering that the Tampa-2 defense is a relic and Lovie Smith needs to ditch what's not working.
That's the message from the guy who coached linebackers under Monte Kiffin years ago, the former Bucs scout and Jets personnel chief Pat Kirwan, now a media hound for CBS and SiriusXM NFL Radio.
Kirwan and prickly Pete Prisco took their weekly look at the Bucs' upcoming game and Kirwan had words for the anti-Tampa-2 crowd.
"People think the Tampa-2 is dead. They're not playing a lot of Tampa-2," Kirwan said of the Bucs. "Watch the tapes. It's a third-down look. It's not what they're doing on first downs."
Kirwan is leery of the Bucs defense, sans Gerald McCoy. "He can't play this game alone," he said.
Of course, like Joe, both men are concerned the Bucs won't be able to pressure Matt Ryan, and he'll be primed for a field day with his healthy receiving corps.
Watch the full breakdown below, including Sunday's predictions.