"Started Off Shaky Because Guys Were Chilly"
November 21st, 2014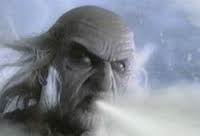 A scene painted of Tampa Bay's Wednesday practice was somewhat disturbing, especially when you consider the weather forecast for the Bucs-Bears game on Sunday in Chicago.
Kickoff temperature is supposed to be 46 degrees, with a high chance of rain and a 10 miles-per-hour breeze.
The weather was much nicer than that Wednesday afternoon in Tampa, but Gerald McCoy said conditions led to practice getting off to a rough start. Speaking on Total Access on the Buccaneers Radio Network, McCoy said it took time for things to click.
"It started off shaky because guys were chilly," McCoy said.
That's not a good sign.
Joe's not going all doom and gloom, but the elements do matter and play a role. However, the Tampa heat hasn't given the Bucs a home field advantage. So Joe's going to hope the same holds true for the Bears.