Sit Down Lavonte David
November 21st, 2014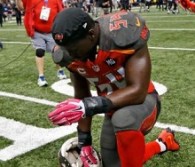 Lavonte David missed practice Thursday with a hamstring injury after being limited in practice on Wednesday.
It's time to do the smart thing.
David is a cornerstone player for the franchise. The Bucs are 2-8 and heading to Chicago to play in hamstring-unfriendly weather. Kickoff conditions are expected to be 46 degrees and rainy.
Joe can't think of one good reason why David should play Sunday and risk further injury.
Please don't tell Joe the Bucs are in the playoff hunt so David must suit up. Joe's been writing since the Bucs started this season 0-3 with two division losses — including a no-show embarrassment on national TV — that this season has become about next season.
Nothing has changed, other than the Bucs have shown a few signs of life en route to a 2-5 record since their Georgia beating.
David has made 42 consecutive starts since being drafted by the Schiano-Dominik regime in 2012. This year's NFL tackles leader is a warrior who has delivered uplifting pride to a depressed fan base. Joe would love to see him drill Matt Forte on Sunday, but there's no reason for it.