Spreadsheeters Love Mike Evans
November 14th, 2014
Each draft, folks wearing suits in Manhattan try to give each draft class a label of some sort. You know, "Year of the Quarterback" or "Draft Class of Linebackers."
This past spring could have been the draft of the wide receiver. Many went early, more so than Joe can remember in recent history. Of course, the Bucs joined the fun by selecting Mike Evans.
After a few speed bumps, Evans has come on strong and one could say he is the go-to guy for Bucs quarterbacks. And the spreadsheeters have fallen in love with Evans as a result.
The folks over at Pro Football Focus recently studied the performances of rookie receivers, and they graded Evans at No. 1 overall. Below is the chart they Twittered out yesterday. (FYI: Green = good; red = warning.)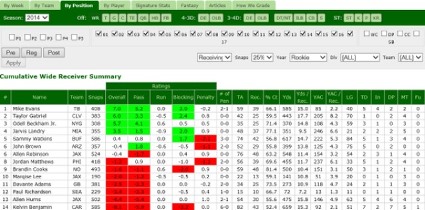 Tony Pisano of ProFootballFocus.com offers up his take on the play and development of Evans.
My Two Cents: Much like Watkins I wish I could see Evans play with a capable quarterback. He is on fire lately scoring five touchdowns in his last five games. Evans is also averaging nearly 90 yards per game over that stretch. If quarterback Josh McCown can just figure a way to throw it in the general area of Evans, he could have a big end to the year.
In hindsight, there were a lot of issues with the player evaluation by overlord of football operations Lovie Smith. But when it came to the draft, it sure seems like general manager Jason Licht nailed his very first pick.