Still Trying For Those Takeaways
November 14th, 2014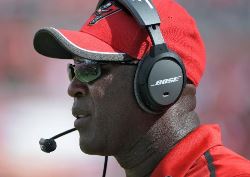 From the time training camp started, if not before, Bucs coach Lovie Smith was like a preacher with a one-track sermon. He preached the word of takeaways.
It's hard to argue. Teams with the most takeaways often are the better teams. It is simple math.
Last year the Bucs were fourth in takeaways per game, and still had an embarrassing 4-12 record, which just goes to show how shameful last year's offense was.
For reasons unknown, those takeaways have not come this year. That doesn't mean Lovie has quit preaching. He hasn't stopped trying to find a way for his club to start collecting turnovers.
Still racking his brain to figure it out, Smith has been playing musical chairs with his safeties since passive Mark Barron was traded to St. Louis. The rotation is, in part, an attempt to force turnovers Lovie said yesterday.
"I won't say looking for the right combination," Lovie said. "We're playing the guys that we feel like deserve to play. Yeah, we are doing that. There's a lot that goes into – I'm disappointed in our takeaways in general. Sometimes, you have to look at the amount of opportunities that you get. Are you dropping balls? They're not dropping a lot, but there is some. Probably more disappointed – but to me, you can create them. If there's a run, you have an opportunity to get it out then. Yeah, very disappointed in the amount of takeaways we have right now from interceptions to fumble recoveries and all."
Right now, Lovie is almost in the mode of do whatever it takes to get a win. Anything to stop the constant losing.
That's why you saw the quarterback of the future benched. That's why you see Lovie rotating guys in the secondary. Anything to jump-start his team.