Lovie's Confidence Rating Stable At 32%
November 14th, 2014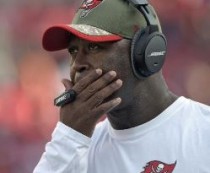 Joe's been polling readers weekly asking to rate their confidence in Lovie Smith.
A funny thing happened after the loss to the Falcons on Sunday.Joe's Wednesday poll revealed those who voted themselves "confident" in Lovie were at 21.2 percent. Those "very confident" were at 5.8 percent. And "totally confident" checked in at 3.9 percent. That was nearly identical to the recorded data last week, following the loss in Cleveland.
In summary, Lovie's confidence rating has stabilized at 32 percent.
That's not good, but it sure could be worse.
Joe has not thrown in the towel like many fans have. Joe will go into the offseason feeling ok, if the Bucs can manage to play solid defense and win at three out of their last seven games. That's not too much to ask.