Raheem Says Freeman Is Working To Return
November 13th, 2014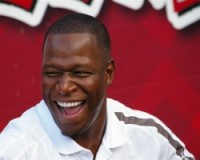 When Joe last checked in with sleepy, leaky former Bucs franchise quarterback Josh Freeman, the 26-year-old was dealing with an October foreclosure filing on his South Tampa house.
But now there's some good Freeman news.
It comes via former Bucs head coach Raheem Morris, now the Redskins' secondary coach. He joined the Ron and Ian show on WDAE-AM 620 this afternoon and said he's spoken to Freeman recently and No. 5 (not Jameis Winston) is working towards an NFL return.
"Right now, I know he's just trying to get better," Raheem said of Freeman. "He's been kind of working with some quarterback gurus. I don't want to mention their names and call them out there. Just trying to stay in shape and trying to be the best person he can get back into his shape. And I know his parents well. They [are] up in this [Washington D.C.] area. So they're up in this area sometimes, so I get a chance to see those guys.

"Hopefully ,you can get him going and get him in the right direction to get him back in the National Football League."
Joe wishes Freeman the best. He's got so much talent.
Joe still says it's a shame Raheem's 2011 staff got in Freeman's head and took a lot of the running out of his game. After the fantastic season Freeman had in 2010, (25 touchdowns, six interceptions, and the NFL's second-leading rushing quarterback), Joe would have let Freeman continue to play instinctively.
As for Greg Schiano's role in turning Freeman mental, well, that's one mystery for the history books.