New Coach, Same Da'Quan Bowers
November 8th, 2014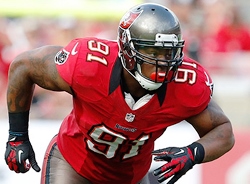 Before someone tries to brand Joe a hater, there may not be a nicer guy in the Bucs locker room than Da'Quan Bowers.
The defensive end has come nowhere near the player folks thought he would be coming out of Clemson. Unlike others, however, who are shadows of their college hype, Bowers never hides from reporters (coughmarkbarroncough) as if the fourth estate is responsible for their suckiness on the field.
Bowers is always at his locker willing to face the music, gospel or otherwise. Joe really, really respects that.
Still, the NFL is not college or high school. You are paid for production. Period. It's is not about love or hate. It's about results. Period.
Sadly, Bowers has never gotten results and, like a cat, he seems to have nine lives. Now on his third coach and second general manager, Bowers is Bowers: you barely know he is on the roster. But here is something both interesting and appalling per Buccaneers.com:
Even with the aid of PEDs, Bowers has a grand total of two solo tackles this year. That's the same number of solo tackles that Mike Glennon, Mike Evans, Bobby Rainey and Patrick Omameh have and those guys play offense!
Can you imagine?
Joe just doesn't know what to say when four offensive players have just as many solo tackles as a second-round pick of a defensive lineman.