Jameis Watch: Target Of Hate
November 7th, 2014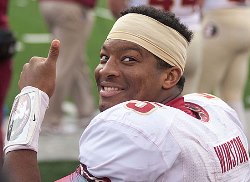 Crab-legs-stealing, BB-gun-shooting, obscenity-hollering, Heisman-Trophy-winning, national champion James Winston, the pride of Florida State University, continues to look like a much better quarterback prospect than Mike Glennon and Josh McCown.
It's Joe's regular nugget on the Jameis Watch, celebrating the best quarterback to wear No. 5 ever in the state of Florida.
When will the hate stop?
Joe gets that uber-talented, troubled Florida State quarterback Jameis Winston is not everyone's cup of tea. Many hate him because he is good. Ungodly good. Some hate him because he is a national champion.
Nobody has the SEC-types this freaked out since Billy Sherman was having his way with Georgia. Some hate Winston because he was not charged in some hassle with a chick. Last Joe checked, it is the legal system that tries and convicts folks, not Twitter.
Yes, Winston is being blamed for everything this side of Ebola. Recently, a sinister, unfounded rumor surfaced (fueled by Paul Finebaum-wannabe with a law degree, Clay Travis) and claimed Winston was shaved points.
So if the Bucs decided they would draft Jameis, this rumor will cause more sleepless nights than his alleged episode of getting too handsy with the women. Nothing gets Roger Goodell running to NFL lawyers quicker than gambling, right Chris Christie?
The next rumor Joe expects to hear about Winston is that he is recruiting for ISIS.
And after that, Winston is a finalist for the opening in the office of outgoing attorney general Eric Holder.