Move Anthony Collins To Guard
November 11th, 2014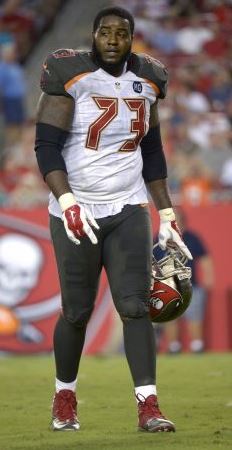 A versatile and successful Bengals backup before Tampa Bay paid him big bucks in March, left tackle Anthony Collins took quite a slap from a top NFL talent evaluator yesterday.
"The Godfather," scouting guru Gil Brandt, the architect of legendary Cowboys teams and a current analyst for NFL.com, took his shot.
In a piece looking at teams' draft needs, Brandt said he'd move Collins out of his current position.
3. Tampa Bay Buccaneers
2014 record:1-8 (.464)
Top three needs: OL, pass rusher, QB
Analysis:The Bucs probably could use two offensive linemen. I'd move LT Anthony Collins to guard, where I think he's better suited, and draft a left tackle. They need to upgrade at quarterback. Josh McCown isn't a long-term solution and Mike Glennon is a marginal NFL talent.
Top-rated seniors at positional needs: OT: Brandon Scherff (Iowa), Cedric Ogbuehi (Texas A&M), La'el Collins (LSU); Pass rusher: Vic Beasley (Clemson), Alvin Dupree (Kentucky), Owamagbe Odighizuwa (UCLA); QB: Sean Mannion (Oregon State), Garrett Grayson (Colorado State), Bryce Petty (Baylor)
What's interesting is Brandt thinks the Bucs need two offensive linemen. But if they're keeping Collins — at guard in this scenario — and drafting a left tackle, then who else on the Bucs' O-line does Brandt think should get bounced?
Regarding Collins, the list of disappointing 2014 Bucs free agents is lengthy. Collins is near the top of the list, somewhere below defensive end Michael "Casper" Johnson.
Collins has been inconsistent, just what you don't want from a left tackle. Collins had a few good games and a few bad games, and he didn't hold up physically. Joe doesn't knock players for injuries, but left tackle, especially, is a position that demands big time durability.
Collins turns 30 next season, and he'll be here because of his guaranteed contract. Joe would love to see Collins forced to compete.