Crying Is OK With Lavonte David
November 11th, 2014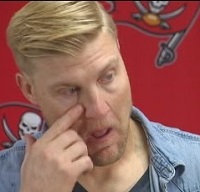 Re-starting quarterback Josh McCown's postgame tears made the national rounds yesterday.
You sure don't see that every day, especially after a seemingly meaningless game in a lost season.
Lavonte David was asked for his reaction to the tears last night on the Buccaneers Radio Network. David said McCown wasn't the lone player filled with emotion.
"You saw it. I mean, not just him, plenty of guys. You saw it from Louis, Louis Murphy. You saw it from me after the game. You saw it from a lot of people, man." David said. "Guys are upset. We take this game seriously. And you know Josh was real emotional throughout the game because, you know, we put in a lot of hard work throughout the week. And we expect the results for the way we work to end up being Ws but we're not getting them. And it's frustrating. He was frustrated. So all we can do is just move on from it. Just keep trying to build. Keep believing. Keep having faith. And, you know, soon things are going to turn around."
It's unclear whether David was referring to himself crying or just being emotional.
But how it's expressed really doesn't matter. It's great that players care deeply, but that doesn't matter much, either, but it's better than the alternative.
Winning, however, is all that matters. There are no moral victories in the NFL, despite what Tony Dungy says.