More Cold Water Poured On Charles Sims
November 2nd, 2014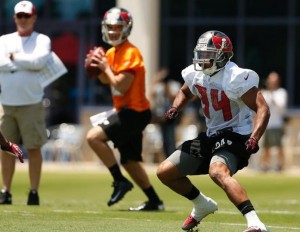 Just like Lovie Smith did Monday night, the head coach poured cold water on the prospects of rookie running back Charles Sims making his debut today.
During his weekly weekend video chat with Scott Smith on Buccaneers.com, Lovie talked about Sims and said he's coming along.
"In the next couple of weeks, we feel we can get him on the football field," Lovie said.
That sure doesn't sound like a guy ready to carry the rock today coming off August ankle surgery. Sims officially was re-activated yesterday after practicing the past two weeks.
As much as Joe would like to see Sims today, Joe hopes the Bucs are cautious with the rookie. It also might be beneficial to see what Mike James has to offer.