Jameis Watch: "Top Target," Says Ex-Bucs QB
November 2nd, 2014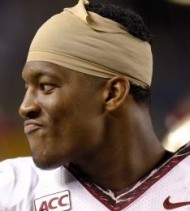 Crab-legs-stealing, BB-gun-shooting, obscenity-hollering, Heisman-Trophy-winning, national champion James Winston, the pride of Florida State University, continues to look like a much better quarterback prospect than Mike Glennon and Josh McCown.
It's Joe's regular nugget on the Jameis Watch, today featuring a former Bucs QB.
Shaun King, one of three QBs to the lead the Bucs to the NFC title game, now an analyst for Yahoo! Sports and NBC Sports Network, says Winston should be the "top target" of Tampa Bay.
King has thrown in the towel on the 2015 starting prospects for Glennon or McCown.
"I definitely think Tampa's in the market for a quarterback in the draft," King said on WDAE-AM 620 this Thursday.
However, King said if the Bucs don't have a pick high enough to draft Winston, then he would advise the Bucs not to reach for the next QB.
"I still think the roster is so incomplete you have to take best available," King said. "I don't think you reach for the next quarterback unless you love him."
For those wondering, King pounded his drum last offseason for Teddy Bridgewater, who King believed was the top NFL prospect. King was adamant Johnny Football was not a first-round talent.
You can listen to all of King's take below, via WDAE-AM 620.