Throw The Damn Ball!
November 2nd, 2014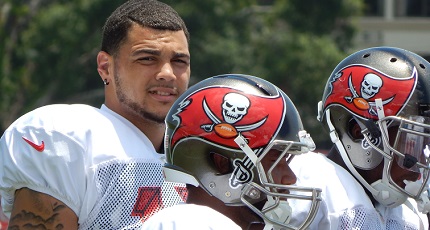 Nothing has pissed Joe off more than the Bucs' insistence on either waiting until late in the first half to throw a deep pass, or rarely using the deep ball in the first half.
And don't tell Joe nobody's open or the defense isn't giving opportunity.
Stop calling the game scared, Marcus Arroyo, and use the weapons in your arsenal. Make your opportunities. Use your Dunkaneers. You're 1-and-freaking-6!
Jiminy Christmas! Vincent Jackson and Mike Evans are on the same field.
And is there any reason the Bucs can't throw slant passes to help out Mike Glennon? V-Jax caught loads of those early in his Bucs career, and that kind of versatility was highlighted in 2012, when he was a true Pro Bowl receiver. V-Jax caught plenty last year, too.
Also, Glennon is capable of the same short drop-backs other teams have torched the Bucs with. The Bucs can mix that in, too. And where's the "up-tempo" the Bucs worked on all through the spring and summer? Glennon even talked about how much it can help the offense during his radio show Tuesday.
Joe's going to puke at halftime if the Bucs aren't aggressive offensively and manage to only play their typical first half of football. Tampa Bay averages just under four points in the first halves of games.