Glennon Sabotage Theory Fueled By His Brother
November 4th, 2014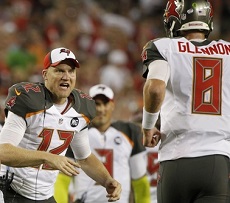 Joe was alerted earlier to a Twitter message by Mike Glennon's brother Sean, a Twittering that seemed to have disappeared along with brother Sean's Twitter account, which later reappeared.
The elder Glennon, the former Virginia Tech quarterback and a guy who has offered strong Bucs opinions previously, supposedly shared his disgust for Lovie Smith today.
How Lovie Smith made it to a Super Bowl…had a lot of respect for him but that's all gone," the alleged Twitter message said.
And then Sean Glennon's Twitter account vanished but reappeared about 1:30 p.m., the same account from which he's blasted Joe in the past.
A good conspiracy theorist might think Sean Glennon was just told by Mike Glennon that he wasn't starting on Sunday, shared his disgust and then deleted it.
Joe has no clue, but Joe surely hopes it is Glennon starting Sunday, otherwise Joe will blow a gasket on these pages.
Update: Joe was just sent a screengrab of Sean Glennon's Twitter in question.