Lovie Takes Will Gholston Off The Hook
November 25th, 2014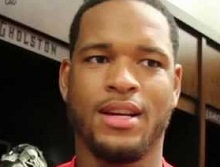 For those eager to clobber defensive end Will Gholston for his second costly special teams penalty this month, Joe can soothe you.
Sunday's first-quarter roughing the kicker personal foul on Gholston that gave the Bears a fresh set of downs was bogus.
Lovie Smith minced no words last night on the Buccaneers Radio Network. It was the wrong call, Lovie said.
"They threw him in there. That should have been holding on them or a no-call," Lovie said. "And on that same play, they hit us out of bounds."
Lovie had some other disagreements with officials, but he was clear that the Bucs are sloppy and player need to end the pre-snap penalties. Lovie even said something to the effect of players need to be men an realize they're hurting their team.
"Those are the ones that show a lack of discipline that we have to clean up," Lovie concluded.