Glennon Mob Doesn't Have To Dig Deep
November 25th, 2014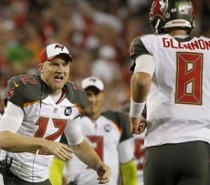 It's been tough sledding for the Mike Glennon Mob. What a rollercoaster ride this year has been.
Those "19-and-9" bumper stickers, hot sellers last Valentine's Day, were emblematic of the movement. But now there's a new rallying cry fueled by fresh data.
Here's the Glennon reality for many.
Josh McCown has taken more sacks per dropback and lost more yards per sack.
Josh McCown has thrown more interceptions in fewer attempts.
Josh McCown has seven touchdowns to Glennon's 10.
Josh McCown has a lower quarterback rating.
Josh McCown is 1-5 as a starter. Glennon is 1-4, with the one win coming against a winning team.
Who could argue with those who repeatedly bang their head against a wall because their favorite team prefers a bad, 35-year-old NFL starter to a second-year player who might be better and at least has more potential?
Yes, Joe realizes choosing between McCown and Glennon is like picking between warm beer and expired milk, But there is a wise choice.