Losing A Fanbase
November 11th, 2014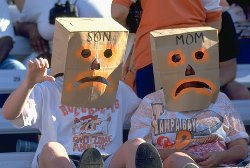 Joe has written how the Bucs, sans wins, are in dire need of drama. Fans claim they don't like it, but, oh, they very much do.
What is the most popular date on the NFL calendar after the Super Bowl and the opening weekend of the regular season? The first day of the draft. The draft has nothing to do with an athletic competition but every thing to do with suspense and drama.
Joe was just looking at his traffic numbers last night. The most popular days for Joe's readers this year were in May. What happened in May? Three days of the draft.
So when a team is losing the drama sometimes distracts fans from just how bad a team is. Case in point was last year's MRSA/mental Josh Freeman circus that marred then-commander Greg Schiano's season. Fans were engaged.
This year? Little drama, no excitement, just week after awful week of losing. The Bucs are the Jacksonville Jaguars sans a quarterback with a hot model girlfriend. As Chucky would say, "There's no juice, man!" They just smell like a rotted fish.
The very worst thing that can happen to a franchise is apathy, and that is what spreads when a team loses and is duller than dishwater. It often takes years to get the turned off fans back.
That seems to be happening to Joe's good friend Justin Pawlowski, "The Commish," of Scout.com. The former voice of the Buccaneers Radio Network studio shows and long-time season ticket holder is finally fed up. Years of losing with no hope in the near future, and a boring team has finally gotten to Justin. He wrote an emotional story of the anguish Bucs fans feel these days.
Honestly, I was surprised more than 46,000 people would go to Sunday's embarrassing matchup and the return to Josh McCown as the Bucs starting quarterback. Then again, I'm sure a lot of those tickets were purchased before the season began when fans were duped into believing their franchise had actually gotten better.

The Bucs are giving their fans zero reason to come to games anymore. The defense is an opposing slumping offense's dream and the Bucs offense is dreadfully boring with little hope. Special teams is an absolute joke led by a punter who barely punts it 30 yards. The in-stadium experience is pathetic from outdated video boards to the playing of the song "YMCA" after a game-tying touchdown in the 2nd quarter.
One can feel the pain in Justin's bones reading that story. It is almost like he is going through a divorce (no, Justin's homelife is great. He and his wonderful wife just welcomed a baby girl to the world. Kudos, Justin!).
Joe has no earthly idea what the Lovie Smith administration has in store for the offseason or who he will hire as an offensive coordinator. In a lot of ways, the Bucs are painted into a corner for next year — a crossroads season for the franchise.
But that is for a dozen future posts (at least).