Your NFL Solo Tackles Leader: Lavonte David
November 11th, 2014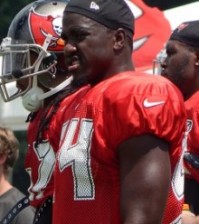 Lavonte David is one of the greats of the game.
No argument. Don't dare deny it.
The guy's consistency has been amazing since he was selected by the Bucs in the second round of the 2012 NFL Draft.
Through 10 weeks of this NFL season, David leads the league in solo tackles. David has 73. The next highest total (64) rests with linebacker DeAndre Levy of the Lions.
"Total tackles," which factors in assists, David (103) is second to his draft classmate Luke Kuechly (105). But David has two forced fumbles. Kuechly has one; Levy has none.
It's just so darn sad that David, 24, is having another stout season that's being wasted.
Joe really is queased by the thought.