Little Signs Of Jeff Tedford
November 17th, 2014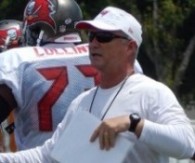 Remember all that "speed in space" talk, and "up-tempo" chatter, and the revelation that healing offensive coordinator Jeff Tedford was a two-tight-ends nut in the Bill Belicheat mold?
That sure sounds like an alien offense that has yet to land on planet Tampa Bay.
Bucs tight ends are averaging just under four catches per game.  Day 1 free agent signing Brandon Myers, who had 126 catches in his previous two seasons, has just 17 receptions this year. Luke Stocker and Austin-Seferian Jenkins combine for the remaining 22. None are really stressing the defense. (Joe's being kind.)
Up tempo? The Bucs are better described as "down tempo."
Speed in space hasn't been seen much. Rookie speedster receiver Robert Herron rarely plays these day, and the Bucs don't really have much working the middle of the field. Louis Murphy has five catches in his last four games.
Joe's taking note of this as the Bucs, in 42 short days, should be fully prepared to hire a new offensive coordinator. Acting playcaller Marcus Arroyo, a Tedford student, clearly is running his own version of the offense. Lovie Smith should be looking thoroughly for better.
What Lovie will, in fact, do is another question. If Josh McCown has a solid finish, then Joe would expect the status quo for next season.
Lovie is a huge fan of McCown, who has heaped all kinds of praise on the development of Arroyo. Last week, right after the loss to the Falcons, Joe asked McCown what was different about the offense in his first start back after seven weeks off. McCown's first response was the growth of Arroyo.