Gadget-Play Madness On Opening Drive
November 9th, 2014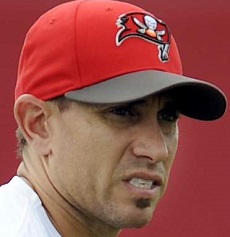 Sometimes gadget plays work. Sometimes they don't.
Sometimes, they're ridiculous calls at ridiculous times. Tampa Bay fans were treated to one of those today.
The Bucs were moving the chains on the game's opening drive. What a treat it was.
They were 15 snaps into a clock-eating effort and on the Falcons' 30 yard line. It was 2nd-and-15 immediately following a five-yard negative run by Bobby Rainey, a play that blew up the right side of the Bucs' offensive line.
So what did the Bucs call next? They called a direct snap, wildcat kind of thing to little used wide receiver Russell Shepard. Huh?? Shepard ran right over right guard, where Patrick Omameh was called for holding. Forget about the penalty, this was a lousy, ill-timed call by backup offensive coordinator Marcus Arroyo.
C'mon, man. You change quarterbacks to "spark" the offense, and you call that hot mess when you're 10 yards from the red zone?
The Bucs' settled for a 51-yard field goal, a 17-play drive that got kicked in the groin — by the Bucs.