Josh McCown Played Like Josh McCown
November 9th, 2014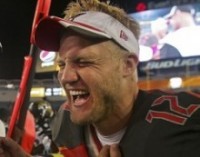 Bucs re-starting quarterback Josh McCown performed like the player he is today.
He was reasonably solid with his throws, minus a bad red-zone pick and a few other dangerous clunkers, and his overall decision-making was questionable at times.
Did you expect more?
That's Josh McCown. He looks like an excellent backup quarterback, a lot like Mike Glennon on a good day.
McCown held the ball too long on several occasions, and forced throws needlessly at times. Either throw that red-zone pick out of bounds, or throw it only where Vincent Jackson can make a play.
On the upside, McCown showed off his wheels and versatility, and his throwing was often on the money. The guy sure can absorb hits, and his stats line will please many — 27-for-43. 301 yards, two touchdowns and two interceptions. But it was nowhere near good enough, not with a Bucs defense that has no pass rush or nastiness.
Joe would love to see Lovie Smith finally realize the Bucs are out of contention and hand the ball back to Glennon. Continuing to develop McCown, or whatever you call what's happening, is downright silly.