Falcons 27, Buccaneers 17
November 9th, 2014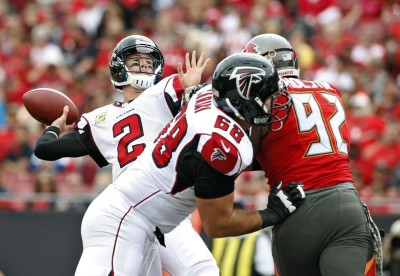 No surprises today. The Bucs moved the ball better against a garbage Atlanta defense but still lost because they couldn't play consistent special teams, avoid costly mistakes, or slow down Matt Ryan and friends.
Your beloved Buccaneers are 1-8 and 0-5 at home this season.
At least the Jets stunned the Steelers and helped the Bucs' draft position. The next time Joe goes to Publix and is asked, "paper or plastic?" you can rest assured Joe's going paper.
Rookie Charles Sims' third-quarter fumble was costly, as were penalties and bad hands by rookie tight end Austin Seferian-Jenkins.
Joe will talk about some bizarre play-calling later.
Joe's unsure what's happening on the Bucs' defensive line. It's simply not progressing. The Falcons have a miserable offensive line with a third-string center and five linemen on injured reserve, and the Bucs couldn't get much done.
Tampa Bay blitzed more today but it seemed every blitz was met with a quick pitch-and-catch by Matt Ryan.
Greg Schiano was 1-8 last year, and so is Lovie Smith.
Stick with Joe through the afternoon for plenty out of this painful Bucs loss.