Johnson Broke His Hand, "Ankle Is Fine"
November 20th, 2014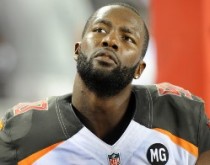 Joe's really unsure how to feel about Michael Johnson.
He's dealing with a healing broken hand, defensive coordinator Leslie Frazier revealed today. But Johnson played through it against the Redskins. Presumably, he broke it before the Falcons-Bucs game two weeks ago.
"Now with the broken hand, it limits him again just like the ankle did. So he's playing through things. Hopefully, I don't know the timeframe to get the cast off, but hopefully it will get to the point where he can grip and, you know, move people around with his hands now that his legs are fine, his ankle is fine. Just being able to use his hands and grab guys and push. You need to be able to do that in our business. But it limits him. He's given us what he has, and that was good enough this past Sunday, and we're going to need him again this Sunday."
Johnson was poor through most of the first half against Washington, but turned it on late. That told Joe he was capable player Sunday.
Against the Falcons, Johnson was inactive with a hand injury that was somewhat mysterious because the Bucs didn't publicly reveal it was broken.
Of course, Gerald McCoy battled a broken hand bone this season, as did Warren Sapp years ago en route to a standout year. Vincent Jackson has played through a broken wrist this season, pretty stunning for a receiver.
Johnson is practicing fully, as of yesterday.
Joe's just glad to hear Frazier say Johnson's ankle is fine. That's one less excuse and will make it easier to evaluate Johnson over the Bucs' final six games.