Feed Bobby Rainey
November 28th, 2014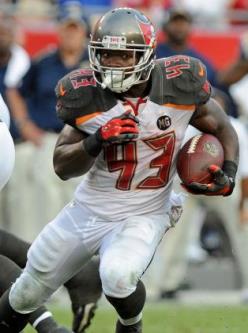 One axiom of those with the mentality that defense wins championships is, running the ball means winning.
The Bucs haven't been running the ball. And yes, the Bucs are losing, just one game away from the coveted No. 1 overall pick in the draft.
Lovie Smith echoed how much he wants to kick-start the running game this week, by way of Woody Cummings of the Tampa Tribune.
When they ran for just 66 yards in Sunday's 21-10 loss to the Bears, it marked the eighth time in their past nine games the Bucs ran for fewer than 100 yards.

It's hard for any team to win with run production like that, but especially the Bucs. In the past four years, they won only four of 35 games in which they rushed for fewer than 100 yards.

"A defense can just tee off on you if you can't run the football,'' Bucs coach Lovie Smith said. "When you can't run the ball consistently in this league, it hurts.''
Wanna know how to correct this? First, stop force-feeding Charles Sims. Joe has nothing against the rookie but it sure seems like Lovie is force-feeding the guy to catch up to the rest of the team.
Sims may very well be a fine back someday but it is pretty clear Sims is all sorts of mediocre now. Lovie claims he is not playing guys to prepare for the future. Then he needs to explain why Sims is getting the ball so much and getting so much playing time.
Then, Doug Martin should not be given the ball short. Martin is dead-last in the NFL in yards per carry. If you really are sincere about improving the running game, then Martin should not be first-option or even second-option.
Finally, Bobby Rainey is the only guy with decent numbers because he has vision for holes behind this sketchy offensive line. He hasn't fumbled since September and we are in the final days of November.
You want to improve the running game? Give Rainey the ball more. If Joe can see this from his couch, then why can't Bucs coaches see this from the sidelines and on film?