Jameis Watch: Gettin' "The Boot" Every Week
November 14th, 2014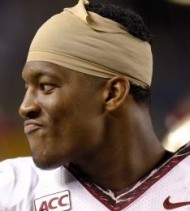 Crab-legs-stealing, BB-gun-shooting, obscenity-hollering, Heisman-Trophy-winning, national champion James Winston, the pride of Florida State University, continues to look like a much better quarterback prospect than Mike Glennon and Josh McCown.
It's Joe's regular nugget on the Jameis Watch, celebrating the best quarterback to wear No. 5 ever in the state of Florida.
What a gamer this Winston kid is.
Iconic Buccaneers radio voice Gene Deckerhoff also has called FSU games for decades. And Deckerhoff pointed out something worth noting during an appearance on WHBO-AM 1040 yesterday
Winston is playing hurt. Deckerhoff talked about how FSU must try and keep the inevitable University of Miami blitzes away from Winston tomorrow night.
"Jameis can hold his own, but he's taken a lickin' the last couple of games. And I'll tell you what, Louisville was tough on him. Hurt his ankle in that game," Deckerhoff said. "If fact, they put a little boot on his ankle after every game. And people say, 'What's wrong?' Jameis is a gamer, and he's healthy and ready to go."

Deckerhoff went on to say Winston's statistical dips from last season are a byproduct of inexperience — but not his.

"You want to know the difference in 10 interceptions in an entire season last year and 11 interceptions this year for Jameis Winston? Young wide receivers: Two freshman and a sophomore," Deckerhoff said.
Joe's not cutting Winston slack here. Playing hurt is necessary in the NFL, and Joe doesn't want a soft QB for the Bucs.