Exposing The Offensive Line
November 14th, 2014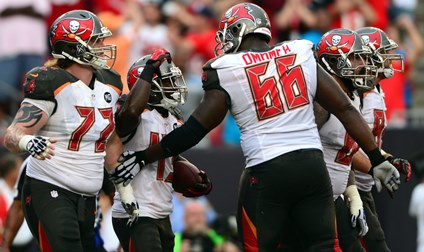 You want to know why the Bucs offense has been, as Charles Barkley would say, "turrible" this year? Well, Mark Bullock of the Washington Post sums it up in two factors: inconsistent quarterback play and a struggling offensive line.
Bullock, an X's and O's guy who writes for the paper of record in our nation's capital, goes into great detail (with photos) as to why the Tampa Bay offense is a mess, and why he expects the Redskins to expose the offensive line for what it is: subpar.
But it's not just run blocking they've struggled with. They've been poor in pass protection too. Both starting tackles, Collins and Dotson have struggled with edge rushers, and both have missed time with injuries. Pamphile, a backup tackle and rookie, has been forced into more playing time than he's ready for.
Bullock noticed, specifically in the loss to the Browns, the Bucs were relying heavily on draw plays and screens because the offensive line wasn't getting the job done. The Browns, for reasons unknown, continued to blitz the Bucs, which allowed them to gain good chunks of yardage. Props to Bucs acting offensive coordinator Marcus Arroyo for recognizing this.
The article is damning. Bullock believes, that if the Bucs offensive line continues to get their lunch handed to them, the Redskins won't blitz much in order to take away outside plays.
The Bucs are so weak up front, Bullock suggests, the Redskins defensive line won't need any help taking care of matters on its own.