Defenders Don't Fit What Lovie Wants
November 14th, 2014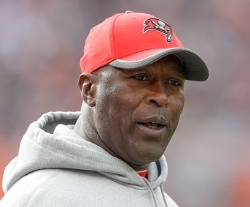 Before the season began, Joe thought the Bucs would be 7-9 largely because Joe was not sold on the offense, particularly the offensive line.
Joe was scolded by many for being so pessimistic about the new, overhauled frontline.
Joe never, ever dreamed the Bucs defense would be so rotten. Not with Lovie Smith as the head coach.
Getting horse-whipped by the Dixie Chicks and Crows, and showing an inability to close games out in the handful of times the Bucs held leads in the fourth quarter, Joe is guessing Lovie has been eating Pepcid AC like M&Ms.
Well, there is a reason the defense is so rotten. Long-time NFL Films analyst Greg Cosell bluntly stated, in an appearance with Joe's good friend Justin Pawlowski of WHFS-FM 98.7, that aside from Gerald McCoy and Lavonte David, the Bucs don't have anyone who can play Lovie's defense. The subject came up when Justin asked Cosell if the Bucs may want to upgrade from Mason Foster at linebacker.
"My guess is that they will want to upgrade, but you cannot upgrade everything necessarily in one year," Cosell said. "Let's put it this way: Lovie's methodology starts with the Cover-2 or the Tampa-2. Now you don't play that on every snap, clearly, but that is the basic methodology. So what you need in order for that to work, No. 1, you need pass rushers. This team does not have pass rushers. I think this defense requires better safety play. And I don't think they have the safeties right now that fit exactly what Lovie Smith wants. And obviously, you need that middle-hole defender and I would  think that they need a better player in that position."
Other than that, how was the car ride, Mrs. Kennedy?
In other words, Cosell is suggesting Lovie, the overlord of football operations, toss his defense into Tampa Bay, saving only GMC and David and the starting corners, if Lovie ever expects the Bucs to be able to stop a cool breeze.
You know, Joe sort of admires Lovie's insistence that players play his defense. But doggoneit, can't Lovie adjust to utilizing the talents his players have, getting the most out of them? That clearly has not happened this year, not even close.
Joe remembers when Tuna Parcells, a ground-and-pound coach if there ever was one, opened the floodgates when he was in New England with Drew Bledsoe, throwing the ball 40 times a game. Why? He didn't have the personnel to play smashmouth football but did have the horses to throw the ball effectively.
There is a reason why Parcells has a bust in Canton.