Jameis Watch: Bill Cowher Says Caution
November 26th, 2014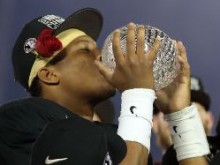 Crab-legs-stealing, BB-gun-shooting, obscenity-hollering, Heisman-Trophy-winning, national champion James Winston, the pride of Florida State University, continues to look like a much better quarterback prospect than Mike Glennon and Josh McCown.
It's Joe's daily nugget on the Jameis Watch, celebrating the best quarterback to wear No. 5 ever in the state of Florida.
Once upon a time, many Tampa Bay fans prayed former Steelers head coach Bill Cowher would be the next leader of the Bucs.
That never happened. But Cowher remains a busy man analyzing all things NFL for CBS Sports. The guy who drafted Ben Roethlisberger talked about Jameis Winston with the TBD in the AM show on CBS Sports Radio this week.
Putting on his personnel-man hat, Cowher said he would be leery of drafting Winston, who has yet to declare for the 2015 NFL Draft.
"I would be [concerned]. We've watched him, and there's no question, I mean this guy's ability on the field. He's a leader. He's a playmaker. But I just go back to the same thing. The decision making that some of these kids have made, you know, it doesn't just change overnight. And it would concern me, particular if you're counting on this guy starting from Day 1," Cowher said.
The former coach went on to say it was critical to have starting quarterback Tommy Maddox in place when Roethlisberger was drafted. Maddox had started the previous two seasons, though Big Ben progressed quickly during his 2004 rookie campaign and went 13-0 in that regular season.
Joe disagrees with Cowher, who thinks college athletes don't overhaul their maturity level.
"Stripes on the zebra don't change. They, you know, they are who they are," Cowher said of Winston and Johnny Football. "You just hope you can get them to understand the responsibility that goes with playing in the National Football League. The sacrifices that you need to make, you're no long a college kid; and I don't want to hear about being a young kid who's just made young mistakes. That doesn't fly. I mean you need to grow up fast.

"You need to grow up fast. You're going to get paid a lot of money. You're a professional, and with that comes responsibility and accountability, a lot of sacrifices and making the right choices."
What's somewhat ironic here is that Roethlisberger went on to engage in major sleazy activities — and he's still performing like a future Hall of Famer.