Bucs Getting Better, Says Marvin Lewis
November 26th, 2014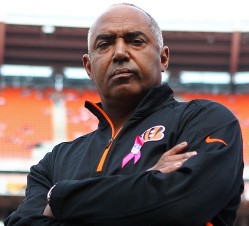 Remember what may have been the most drama-filled Bucs offseason?
It was when Father Dungy was launched and Team Glazer hunted for a new head coach, the man who eventually was Chucky, because Team Glazer found general manager Richie McKay's offerings unsatisfactory.
Fun times, especially when Team Glazer made a deal with the devil [Al Davis] for Chucky.
Well, also remember how if it was up to McKay, the next Bucs coach would have been Marvin Lewis? It wasn't him, and a year later, Lewis became the head coach of the Cincinnati Bengals, where he has been since.
Today, in his press briefing with the Tampa Bay pen and mic club, Lewis grumbled about how his opponents had more points than his playoff-bound Bengals (Lewis is 0-5 in postseason games), and Lewis discussed the Bucs.
In fact, the almost-Bucs coach had high praise for the current Lovie Smith and how the landscape at One Buc Palace is changing for the better.
"You see a football team that's improving all of the time," Lewis said. "Unfortunately, we don't always get the wins and season that you want and the way it's going to end up. It's hard when it doesn't work that way, but you see them laying the foundation of what Lovie [Smith] was doing and it's working out that way. I know if you go back to 1996 in Tony [Dungy]'s first year, they ended up winning the last five games of the regular season and that continued to be the foundation that they were built upon. You've got to start to build and Lovie's trying to put his plan in place and build upon it."
Yes, the defense of the Bucs is getting better. The offense? Well, that possibly could be getting worse. It is close to gruesome.
One can only wonder what the Bucs would have become with Lewis as a head coach? A Super Bowl winner or just a long line of frustrating trips to the playoffs, bereft of wins?