It's Rainey's Job To Lose
November 6th, 2014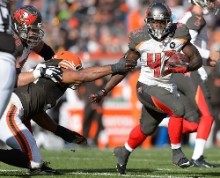 Joe wrote last week that if Bobby Rainey had a successful day in Cleveland, then Doug Martin's days as the Bucs bellcow back were likely done.
Martin, since his rookie season, has shockingly and steadily declined as an effective rusher.
Rainey, on the other hand, gets yards and finds holes and runs to daylight, something either Martin cannot do or has no interest in doing any longer (or both). Rainey had a fine day against the Browns before he had the rug pulled out from under him by acting offensive coordinator Marcus Arroyo.
But Joe has found, via film guru Andy Benoit of theMMQB.com, another reason why Rainey is now the Bucs No. 1 back. Dude can block.
#Bucs Film: Rainey several good late blitz pickups, mostly up the middle.

— Andy Benoit (@Andy_Benoit) November 6, 2014
Well now, a running back who can find and exploit holes in a defense and pick up blitzes effectively? What more do you want in a running back? Oh, and he can catch the ball, too.
Right now Joe cannot come up with a reason why Martin should start over Rainey, sans an injury or something. Until Martin, who missed practice yesterday with his bad ankle, re-learns or proves he can be elusive and exploit holes, what's the point in starting a guy like that?