"I Don't Know; You Tell Me."
November 9th, 2014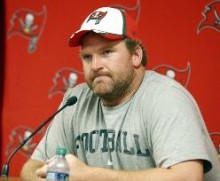 It appears Joe irked one of the most mild-mannered men in the Buccaneers' locker room this afternoon, following the latest beating at the hands of the Falcons.
Logan Mankins has his usual mellow chat in the postgame locker room, which largely centered on reporter questions about rebounding after a loss, and the difference between winning teams (Patriots) and losing teams (Bucs).
But then Joe asked about Mankins himself. Here was the exchange:
JoeBucsFan.com: Bucs fans haven't seen much of you through your career. You're new to them, pretty much. How would you say you're playing this year?

Logan Mankins: I don't know. You tell me. See you guys.
This was really out of character for Mankins. Joe thought it was a fair question, but apparently, Mankins wasn't feeling it.
Maybe this was just frustration from losing, or maybe Mankins isn't playing up to his contract and he knows it. Regardless, Mankins doesn't want to talk about his performance.