What's Improved Since Last Year's 1-8?
November 9th, 2014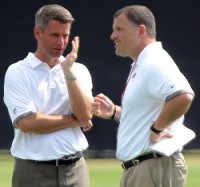 New regimes look to improve, hopefully quickly, but at least steadily. They focus on growth. They're trying to build something.
Right now, following a beating by a bad Falcons football team, Joe's not sure what the Buccaneers have accomplished this year, if anything at all.
Joe really hates typing this. Losing sucks. Being the worst team in the NFC — by two games — is dreadful and inexcusable. Joe loves the Bucs more than most might believe. That's why Joe started this website, out of pure love for the Buccaneers. Luckily, it led to Joe making a decent living, but Joe's love of the team is what fuels the engine.
So, at 1-8, Joe is yearning for positives, and Joe really can't find any right now outside of No. 13, wide receiver Mike Evans, a hell of a draft pick and a kid maturing rapidly before our eyes.
The core keys to NFL victory aren't here.
1)  The offensive line is below average with a lot of veterans who aren't on the upswing.
2) The defensive line is anemic and can't capitalize on the constant double teams of its lone manbeast.
3) The Bucs are poor at quarterback and are not developing a quarterback. That's still the most important position on the field, despite those who pretend otherwise.
4) The Bucs are undisciplined.
5) The special teams are a weakness.
Joe's really not sure where the Bucs are going, and where they need to turn in January, when 2015 decisions start flowing.
Last year, the Bucs were 1-8 under Greg Schiano.
What exactly is better, overall, about where the Bucs are right now, versus where they were at least year's 1-8 mark?
Joe's really struggling for positive answers. Can somebody please tell Joe why the organization is better off one year later?