Hand The Rock To Mike James
November 30th, 2014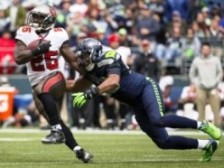 Seven months younger than rookie running back Charles Sims, Bucs second-year RB Mike James has been a forgotten man this season.
A year ago, he dazzled the NFL in Seattle with 158 yards on 28 carries.
The following week, James was off to another big game against Miami when he broke his ankle. Offseason surgery was next, and James got off to a slow start this year as he got his legs under him. (He only had six preseason carries.)
Currently, James is buried as a short yardage back.
Joe would like to see James resurrected.
James' last action carrying the ball came three weeks ago against Atlanta. He had four carries for 16 yards, which feels like a brilliant performance the way Bucs running backs have been producing.
The former regime likened James to Earnest Graham, citing his versatility as a runner and his ability and willingness on special teams. As Bucs fans know, Graham was buried by Chucky for years and only emerged when Chucky was desperate in 2007 –when they were the 11th-ranked rushing team in the NFL.
With the Bucs sitting at 2-9 with a miserable running game, Joe sees no reason not to give James a significant look. It would be nice to know if James could look like he did last year.