Lovie Singles Out Michael Johnson
November 30th, 2014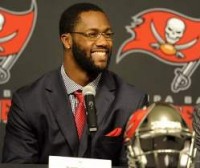 Was Lovie Smith trying to light a fire under his struggling defensive end?
Or was the Tampa Bay head coach just casually chatting about his team?
Joe will let Bucs fans answer that question.
In the weekly, pre-game Lovie video chat with Scott Smith of Buccaneers.com, the head coach praised new starting left defensive end Jacquies Smith for taking advantage of opportunities.
"I would love seeing a great player like Gerald McCoy next to me and want to continue to play," Lovie said.
Then Lovie rolled into an unsolicited underlining of underperforming Michael Johnson.
"I would say the same thing for Michael Johnson. Michael's had an excellent week of practice. Of course, this is a big game. Whenever you play your old teammates, of course, you want to show them exactly what you're doing now."
You can watch the exchange starting at 2:40 of the video.
Joe finds it significant. Johnson has been healthy lately and his head coach just told the world he had a great week of practice, and that he plays alongside a superstar who will set him up with chances.
Johnson best deliver through Tampa Bay's final five games. If not, Joe suspects the Bucs won't hesitate to help him find a new team.