Gruden Talks Gerald McCoy
November 14th, 2014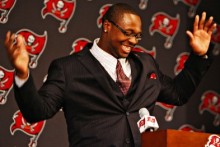 There are Bucs fans frustrated enough to berate Gerald McCoy for his on-field play.
These angry types don't like McCoy's off-field chatter and let that cloud their judgment.
Reality, however, reveals McCoy has gotten little help from his defensive line mates the past couple of seasons. Heck, McCoy might even be longing for Daniel Te'O Nesheim about now. You remember him, a starting Bucs defensive end in 2012 and 2013, who is out of football.
McCoy plays a couple of levels above the next best Bucs defensive lineman and coaches around the league know it. McCoy pays for it in the trenches every game.
Here's video of Redskins head coach Jay Gruden talking about McCoy this week: