Report: Tedford "Didn't Feel Like Returning"
November 14th, 2014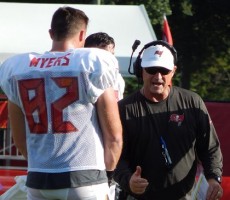 Whoa!
Harsh words were typed this morning about Bucs offensive coordinator Jeff Tedford, who left the team in September following heart problems in August.
PewterReport.com chieftain Scott Reynolds offered a powerful, unsourced take in his latest column. Reynolds implies Tedford jilted the Bucs.
The reason why Tedford was placed on indefinite medical leave was because he didn't feel like returning after he was cleared from his heart surgery. That's about all I can disclose at this time due to HIPAA laws. Tedford has a right to privacy regarding his medical conditions, and I'm going to respect that right.

At the same time, the Bucs were expecting him to return by Week 4 and he chose not to for reasons the team thought he could ultimately manage, which deeply upset some inside the organization.  Tedford most likely wouldn't be welcomed back at One Buc Place because the organization feels like he left the team – and quarterbacks coach Marcus Arroyo – in the lurch.
First, Joe is confident HIPAA law only applies to employers and employees, not reporters. But that's not too important here.
These are very strong claims by Reynolds.
Joe's heard loads of things about Tedford, but Joe's not big on anonymous sources.
Joe will say it is awfully odd that Tedford has completely disappeared into a cone of silence. Joe has long suspected that money is a major factor here, as it relates to contract terms and insurance policies Tedford and/or Team Glazer have that connect to Tedford's availability to work.
Also, as Joe wrote earlier this week, Lovie Smith needs to be prepared to hire an offensive coordinator in 45 short days. Joe sincerely hopes Lovie will be ready.