It Starts With Practice
November 14th, 2014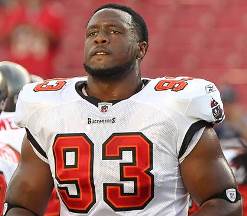 In four losses the season, the Bucs held leads in the fourth quarter. Problem was, the defense couldn't make critical stops hacked up leads.
Few were more gut-wrenching than the losses against the Lambs and Vikings, both at home, when a never-been quarterback who was pulled off the street and a green rookie, respectively, led their teams on last-minute scoring drives.
No one is more frustrated about this than Gerald McCoy. The Bucs defensive tackle believes the Bucs just need to be better shutting down their own offense in practice and that will eventualy carry over into real games.
"Well even more than just that – end-of-halves or end-of-game situations period, we haven't been good in and that starts with practice," GMC said. "We do two-minute drill on Thursdays and we have to compete at game speed, even though we don't wear pads, we still have to compete at game speed. You don't have to bull-rush anybody, but you can still get a good pass rush, get your hands down, timing down, receivers can run great routes, in the back end they can make sure they're in the right position, but we have to compete much harder in those drills in practice for it to carry over into the game. Sometimes the two-minute drill, at the end of practice – Coach Smith is very strategic and he's very smart, he does it that on purpose. To practice for however long we practice and then you put this two-minute drill at the end of practice, it's to simulate the game. Starting with me and all the way to the backend we have to compete, compete and compete at the highest-level in practice in order to improve on that in the game."
Now there are a few things that jump to mind here. Why hasn't this been done earlier? Did the coaches not think of it? Or were too many players just going through the motions of practice in shorts?
Joe isn't sure what to make of this but he is glad GMC recognizes the issue and is trying to do something about it.