Frazier Delivers Decisive Love
November 24th, 2014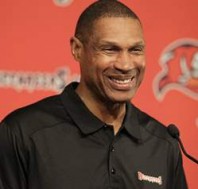 Joe always finds quick reactions telling.
So it's worth sharing Leslie Frazier's thoughts on the Tampa Bay secondary tonight on the Buccaneers Radio Network, via WDAE-AM 620.
Asked by Total Access host TJ Rives to comment on the defensive backfield, the Bucs' mild-mannered defensive coordinator went right to Johnthan Banks love.
Frazier said Banks is "the guy who's really stepped up." He went on to say the second-year man has been a catalyst for growth.

"He's the guy who has really helped our secondary to improve. To see the maturation of Johnthan within this system kind of mirrors" [the improvement of the entire defense,]" Frazier said.
Keep in mind Frazier was an excellent Bears cornerback with 20 interceptions in just 49 starts. At 26 years old, his career was ended by an injury in the 1986 Super Bowl. He knows what he's looking at.
Another Dominik-Schiano man, 24-year-old safety Bradley McDougald, was the other player singled out by Frazier.
Joe loves seeing young guys leading the charge on the Bucs' defensive improvement. Solid defensive play through the final five games would at least help close the open wound of this season.