Jameis Watch: No Referee Hassling
November 24th, 2014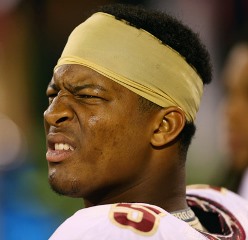 Crab-legs-stealing, BB-gun-shooting, obscenity-hollering, Heisman-Trophy-winning, national champion James Winston, the pride of Florida State University, continues to look like a much better quarterback prospect than Mike Glennon and Josh McCown.
It's Joe's daily nugget on the Jameis Watch, celebrating the best quarterback to wear No. 5 ever in the state of Florida.
Yes, Jameis Winston blows his nose and people will get their noses bent out of shape with how he did it.
Case in point, Saturday.
In FSU's win over Boston College, a zebra got in the way of Winston who gently pushed the zebra aside. Haters were insensced, wanting Winston ejected. Instead, the ACC, per the Tallahassee Democrat, stated not only was there no offense, the zebras did the right thing in not flagging Winston.
On Sunday, the ACC Coordinator of Football Officiating, Doug Rhoads, said that it was "incidental contact" and that the official made the right decision in not penalizing Winston. And that there would be no further punishment by the conference either.
But that doesn't stop the smear merchants from trying to destroy the career of one Jameis Winston.