Sims Expected To Be Activated Today
November 1st, 2014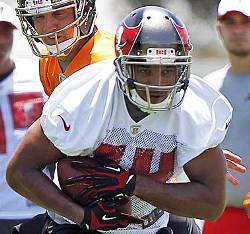 Joe has been pounded with questions about when rookie running back Charles Sims would be activated. If you have today in your pool (why else would anyone be so concerned Sims would be activated so long as he was by kickoff?), you are a lucky person.
Per NFL.com's insider Ian Rapoport, it is expected Sims will return to the roster today, so Rapoport Twittered.
#Bucs will activate rookie RB Charles Sims today, source says. He'll play Sunday. Intriguing option for real & fantasy. They love his talent

— Ian Rapoport (@RapSheet) November 1, 2014
Now exactly when Sims will be activated, Joe can't help you there. Remember, "today" ends at midnight. Could be now, could be an hour from now, could be at 11:59 p.m.
Hope you are successful in your Charles Sims activation pool.