Lovie: "There's No Doubt We're Headed In The Right Direction"
November 2nd, 2014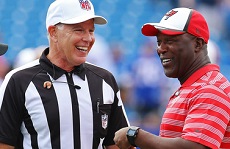 Breathe easy, Tampa Bay fans. Take a deep breath. Don't go digging a six-foot hole in the strawberry fields of Plant City, or go planning a Denver vacation just so you can smoke loads of marijuana legally to ease your Bucs-fan pain.
Following today's senseless, nut-kick loss to the Browns, Lovie Smith said, "There's no doubt we're headed in the right direction" during his postgame news conference.
There you go. That should calm your 1-7 nerves.
Lovie went on to say winning, not improvement, is the challenge.
"We gotta find a way to win a game now, is what we have to do. That's what we haven't been able to figure out. And we're running out of time," Lovie said. We're at the halfway point of our season now. It's about November football. Playing your best ball right now. And we haven't."
Before the game on the Buccaneers Radio Network, Lovie also shared his strong feeling that the team is improving steadily.
"Behind the scenes we continue to get better, and that has to lead to wins," Lovie said.
Somehow, all this optimism isn't ending Joe's Tums addiction.
Barring a tremendous turnaround in the second half of this season, Joe suspects the next thing to calm him will be a stud offensive coordinator signed in December, followed by a franchise quarterback prospect drafted in April.